We talk with Liz Fosslien, the co-author and illustrator of the book No Hard Feelings: The Secret Power of Embracing Emotions at Work, about how to express our emotions effectively at work – especially during emotionally challenging times.  
Photo credit: Bonnie Rae Mills
We are very excited to talk with Liz Fosslien, the co-author and illustrator of the Wall Street Journal best-selling book No Hard Feelings: The Secret Power of Embracing Emotions at Work, with Mollie West Duffy.
You may have seen her clever, emotion-themed illustrations on Instagram at @lizandmollie.
They're so good and just make us feel seen: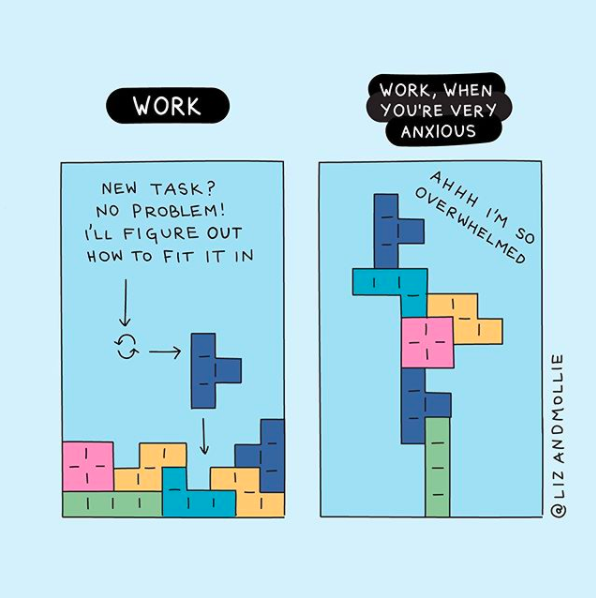 via @lizandmollie
A bit about Liz: She's the head of content at Humu, a company that nudges people towards better work habits, unlocking the potential of individuals, teams, and organizations. She regularly leads interactive, scientifically-backed workshops about how to create a culture of belonging, help remote workers avoid burnout, navigate different work styles, and effectively harness emotion as a leader.
Fun fact: our wonderful cousin Lynn works with Liz at Humu and sent us each copies of her excellent book! 💕
Liz talks about why it's so important to acknowledge and make sense of our feelings at work – and how we can do this more effectively. It's always been tricky to find the right balance – sharing just enough to connect with others without oversharing. Now it's even more challenging, as many of us are working from home during a pandemic and dealing with uncertainty and a lot of other complex emotions.
Liz shares advice for identifying and understanding our emotional needs, communicating digitally with coworkers, and creating a healthy emotional culture on teams.
Steal This Tip: Liz Fosslien Edition
At the beginning of the day, I write down the three things that I want to accomplish that day. And then I always do the hardest one first.
It's hard to do, but it's interesting to look at what you're feeling. Because often you're most stressed about something because it either requires the most work or it's the highest stakes.
Thank you so much for joining us, Liz! We really enjoyed this conversation.
Get It Together / Got It Together
In this segment, we normally share something that we'd like to work on and something that's going well for us right now. But this time we felt like cutting ourselves a break because we are honestly doing the best we can under the circumstances. So here is our Got It Together / Got It Together.
Melia Got It Together: Leaning in to time with the kids

Gill's Got It Together: Going for daily walks again
Get In Touch
Tell us about a strategy that helps you embrace emotions at work. Email us at podcast[at]semitogether.com, or leave us a comment on Facebook or Instagram.
You can support the podcast by becoming a patron at patreon.com/semitogether If you haven't already, take a moment to leave us a review or share the podcast with a friend who'd enjoy it. And sign up for our e-newsletter.
Resources